Flash-compatible template for dress-up simulation
"RingSIM" is a Flash simulator for the web that allows you to see how a photo you have taken looks with images of products. You can check how you physically look with images of accessories like jewelry, necklaces, and glasses, as well as clothes and hats. It is also compatible with items like car tires, wheels, and electronic devices which you can simulate how it would look in a particular physical environment.



■

Just replace the original image to custom design your GUI
Screen layout, buttons, and other GUI components can be easily modified simply by swapping images (PNG format only) that you have created. You can design a simulation site according to the product or based on existing websites.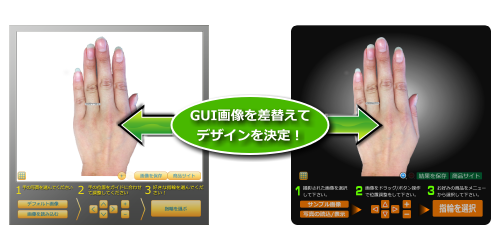 ■

Simulations can be done on any captured image
• RingSIM can display any image that you have prepared. For example, to simulate the appearance of a ring or necklace, you can see how it fits with a picture of your hand or neck that you have taken. For things like wheels and tires, see how it looks with a picture of your own car.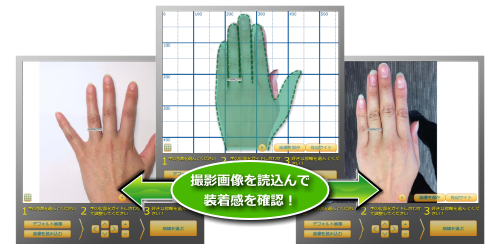 ■

General Purpose Flash-compatible content
The RingSIM template is compatible with "Flash."By uploading the containing folders and linked files, you can easily set up an online simulator on your website.
RingSIM template configuration block diagram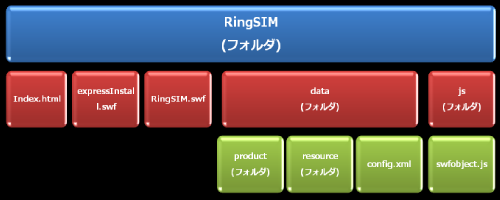 ■

Contents that can be modified



● Any images in the resource folder
● The "title" of Index.html
● Any images in the product folder
● Config.xml file description

■

Unmodifiable elements



● The size of the screen size
● Location and size of each button
● File name of screen and buttons
● Name and structure of folders and files
● Image File Format (PNG only)
■価格
Product configuration

RingSIM (design template) set

Data for jewelry site (sample)

config file for jewelry site (sample)

GUI image for jewelry site (sample)

- Complete documentation

Price

52,500 yen (Tax included)
*Jewelry data contained in this sample is provided with the cooperation of the Digital Jewelry Association. Copyrights of images and data belong to the Digital Jewelry Association or individual designers.